(English version below) 30 begeisterte Fans des manged Codes fanden gestern Abend Ihren Weg nach Koblenz, um bei unserer .NET User Group Tony Hasselhoff Lombardo, ASP.NET MVP und Lead-Evangelist bei Infragistics, zu hören.
Tony erzählte in einem sehr spannenden Vortrag, was mit Microsoft Silverlight 2.0 fernab von sinnfreien animierten Buttons und TextBoxen machen können. Ganz Konkret ging es um Geschäftsapplikationen, mit denen unsere Kunden sogar arbeiten können ;-)
Unter anderem Sprach Tony über:
Authentifizierung und Authorisierung
Das Speichern von Benutzereinstellungen
Datenzugriff und -bindung
sowie das MVVM Pattern.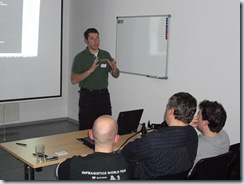 Entgegen meiner ersten Befürchtung war die Gruppe trotz des ersten fremdsprachlichen Vortrages recht aktiv und stellte viele Fragen. Außerdem freute ich mich sehr darüber, so viele neue Gesichter zu sehen. Hoffentlich findet der ein oder andere zu zukünftigen Treffen seinen Weg zu uns.
Als User Group freuen wir uns natürlich sehr darüber, dass wir Tony als einzige Gruppe in Europa exklusiv zu Gast haben durften. Vielen Dank an dieser Stelle noch mal an Ihn und das ganze restliche Team von Infragistics, die diesen Vortrag möglich machten!
Als kleines Bonbon sponsorte Infragistics zum Abschluss des Vortrags sogar noch eine MSDN Premium Subscription sowie eine vollständige NetAdvantage Suite, die wir innerhalb der Gruppe verlosen durften.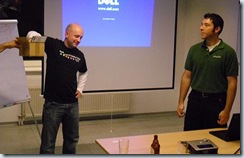 Als Fazit nehme ich mit:
Silverlight eröffnet eine Reihe neuer Möglichkeiten im Web
5 Erwachsene passen in einen Peugeot 106, bequem ist es aber nur für den Fahrer
Man sollte auch grauen Text lesen
Jemand der kein deutsches Bier gewohnt ist, verwechselt leicht den "Kleiner als" Operator "<" mit einem öffnenden Generic
English version:
Yesterday evening, 30 excited fans of managed code found their way to Koblenz in order to listen  to Tony Hasselhoff Lombardo, ASP.NET MVP and Infragistics lead evangangelist, at our local .NET user group.
Tony did a great talk on the possibilities of Microsoft Silverlight 2.0 beyond rotating buttons or text boxes. Actually the whole thing was about Line of Business Applications, which our customers could eventually use to get their job done ;-)
During his talk Tony covered:
Authentication and authorization
Preserving user settings
data access and binding
as well as the MVVM pattern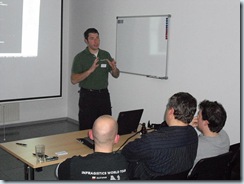 Despite my initial worries, the group was very active and asked a lot of question. So nobody seemed to be shy at our first talk in a foreign language. In addition, I've been very happy to see so many new faces during the meeting. Hopefully some of them will find their way to future meetings, too.
As a user group we were of course very happy to be the only group to present Tony in Europe. Many thanks again to him and the whole Infragisitcs team for making this talk possible.
As a small bonbon, Infragistics sponsored our meeting by raffling a MSDN Premium Subscription as well as a full NetAdvantage Suite.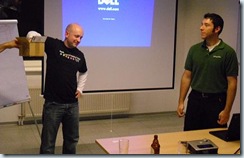 My resume of the meeting is:
Silverlight gives you a whole set of new possibilities for web applications
5 persons do fit into a Peugeot 106, but it's only comfortable for the driver
You should read the grey text, too
Somebody who's not used to German beer may easily mix up a "lower then"-operator (<) with an opening generic